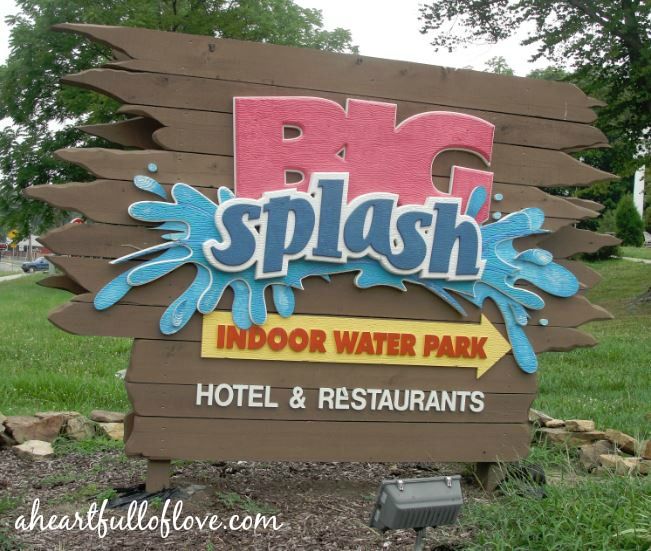 This past weekend we had the opportunity to visit the Big Splash Adventure Water Park in French Lick, Indiana. (Disclosure: We were given complimentary day passes in exchange for an honest review of our visit.) We have never visited an indoor water park before so we were so excited about getting to spend the day playing in the water.
About Big Splash Adventure Water Park and Resort: Big Splash Adventure is a 40,000 square foot indoor water park, featuring pirate-themed decor.  It has several water slides, a lazy river ride, and tons of fun for the entire family.  With one of the largest retractable roofs in the United States, the temperature in the park is always pleasant and comfortable. Big Splash Adventure is open 9:30 am to 9:30 pm during the summer months.  (Be sure to check their operating hours if you are visiting during other times of the year.) Big Splash Adventure Resort features 154 guest rooms and water park admission is included with your stay.  If you just want to visit for the day, day passes are also available.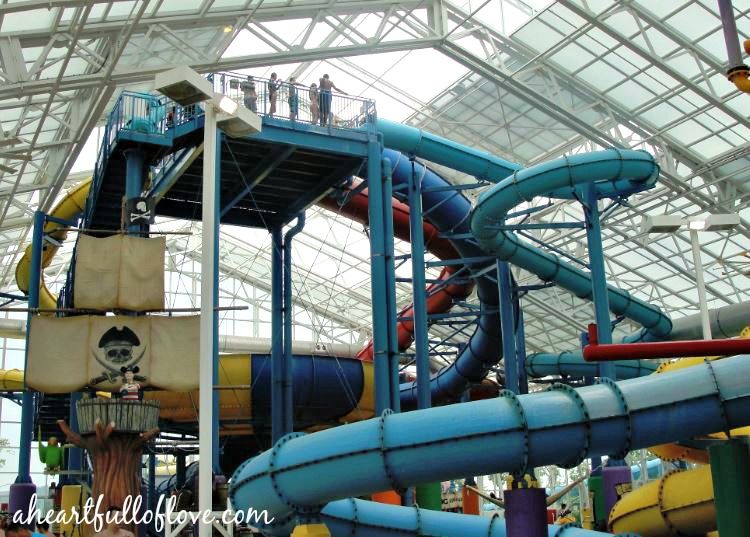 The attractions:
4 water slides (2 require an inner tube, 2 don't).  Silver Beard's Revenge sends you down a tube to a large bowl where you spiral toward the center and then splash down into a run out.  The other inner tube slide is the Jolly Roger Jetty which sends you hurling through seven curves before depositing you into the splash pool.  Scallyway Scuttle and Pirate's Plunder are both fully-enclosed fast and winding body slides.
Lost Treasure Lagoon.  This indoor pool area features water basketball, a Vortex section which features a circular current, and a Lilypad to cross.
Lost River.  This lazy river ride will send guests floating through the park with lots of fun surprises along the way, including waterfalls and water jets.
2 areas for younger guests.    For babies and toddlers, they have the Splish Splash Pool.  There are baby swings which allow little ones to dip their toes in the water while swinging.  There is also a toddler sized slide.  The whole area is just 9 inches deep.  For kids who are a little bit older, there is Buccaneer Bay.  It features lots of interactive play, water sprays, and two body slides.  The 1,000 gallon dumping bucket is also great fun when it sends water dumping onto guests below on the platforms.
An adults only area.   Palm Cove is a hot tub for guests 18 and older.  It is perfect for for moms and dads who want to relax for awhile.  The water is a balmy 101 degrees and features soothing water jets to help you unwind a bit.
Outdoor pool.  During the summer months, you can head outdoors and soak up the sun in the Outdoor Leisure Pool.    Younger kids will enjoy the water geysers while older kids will enjoy playing a game of water basketball.
For non-swimmers:
My kids don't have much opportunity to swim, and despite having taken lessons have never really gotten good at it.  So I was concerned that they would be stuck in the kiddie area the entire time.  I am happy to say that they were able to participate in everything at Big Splash Adventure.  None of the water is very deep.  If I remember correctly, the deepest water anywhere in the park was less than 4 feet.
As a parent, I definitely appreciated that the water depth is very clearly marked in all areas. In addition, there were plenty of life vests available for kids.  So even if your child is not a great swimmer, there is plenty they can do at Big Splash Adventure.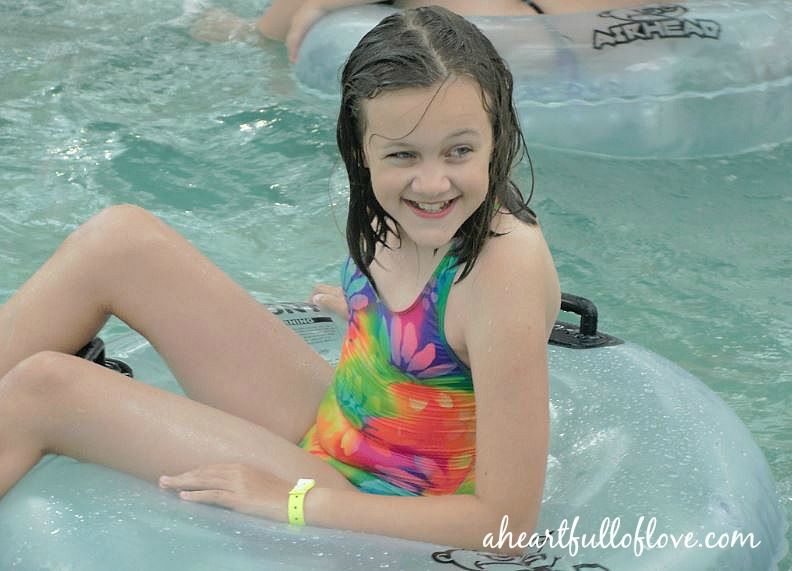 Our favorites: Hands-down, the kids all said that the Jolly Roger Jetty water slide was their favorite.  The girls loved that they could ride it together on a double inner tube. My husband's favorite was the Silver Beard Revenge water slide.  The first time he rode it, he jokingly told me that now he knows what it feels like to be flushed down a toilet!  He ended up riding it several times over the course of the day.
Since I didn't think it was a good idea to go on any of the water slides given my back surgery in January, my favorite ended up being the Lost River ride.  It was so relaxing to float along in the inner tube.  I also really loved the Palm Cove.  So relaxing!
What could be improved: We had a great time at Big Splash Adventure.  However, we did have one complaint.  There were not enough inner tubes.  They could have easily used twice as many for the number of guests they had!  We weren't alone in feeling this was a problem.  This was a complaint we heard over and over again from other visitors as the day progressed.
The problem was that the same inner tubes were used for the lazy river ride and the 4 water slides.  Nearly everyone coming down the water slides were taking their inner tubes with them and riding again.  So it made for a long wait if  you wanted to get your hands on an inner tube.
They need a better way to organize this so it is fair for all guests.  The free-for-all system they currently have makes people unnecessarily annoyed when they are supposed to be spending the day relaxing and having fun.  I would suggest having an attendant that takes the inner tubes as guests exit the water slides.  Then the attendant can pass the inner tubes over to people waiting in line.  By organizing this process somehow, they would have happier guests.  Just my two cents!
---
Things to note before you visit Big Splash Adventure:
Towels – Complimentary towels are available for hotel guest only.  If you are just visiting for the day, you need to bring own beach towels.   Actually from what we saw, the towels provided are pretty small.  So you will probably want to bring your own beach towels even if you are staying overnight at the resort.
Snack bar – Just off the arcade is a snack bar where you can grab a quick lunch.  They offer pizza (which seemed to be a popular choice), burgers, hot dogs, etc.  So if you are going to be there over lunch time, you don't  have to leave the water park to eat.
Lockers – We had come prepared with a bag full of quarters to stow our stuff in a locker. We discovered that Big Splash Adventure has a different sort of system for their lockers.  The rate is $6.42 to rent the locker for the whole day.  You are given a wrist band that contains an RF chip which will allow you to get in your locker as many times as you want over the course of the day.  You just hold the wristband up to the lock and it unlocks it for you.
We had a bit of an issue with our wristband. My husband had been wearing it and when he got off one of the waterslides, he noticed it was missing.  He had no idea how it came off.  Normally you have to cut those wristbands off with scissors!  At any rate, a very nice Big Splash Adventure employee promptly helped us by getting us a new wristband.  He even helped move our stuff over to the new locker we were given.  We were so grateful for his help!
Day Pass Rates – We were sent 4 passes, so we had to buy one additional day pass.  The rate for a day pass is $21.95 for adults and $19.95 for children 12 and under or seniors 60 and older.  Children 2 and under are free.
Spending The Night – Rooms include a complimentary 2-day waterpark pass for up to 4 guests.  Your stay also includes a complimentary hot breakfast in the morning.  For more information, be sure to check out their rooms and suites.
Restrictions On The Water Slides: There were standard theme park ride type warnings on all the water slides.  Since I had back surgery in January, I obeyed the warnings and stayed off the slides, even though I would have loved to try them out.  There were also height restrictions on the slides as well, but my kids were all tall enough to go on everything.  Just be aware though that if you are visiting with small children or with someone who has had a recent injury or surgery, they might not be able to participate in all the attractions.
Want to learn more about Big Splash Adventure?
---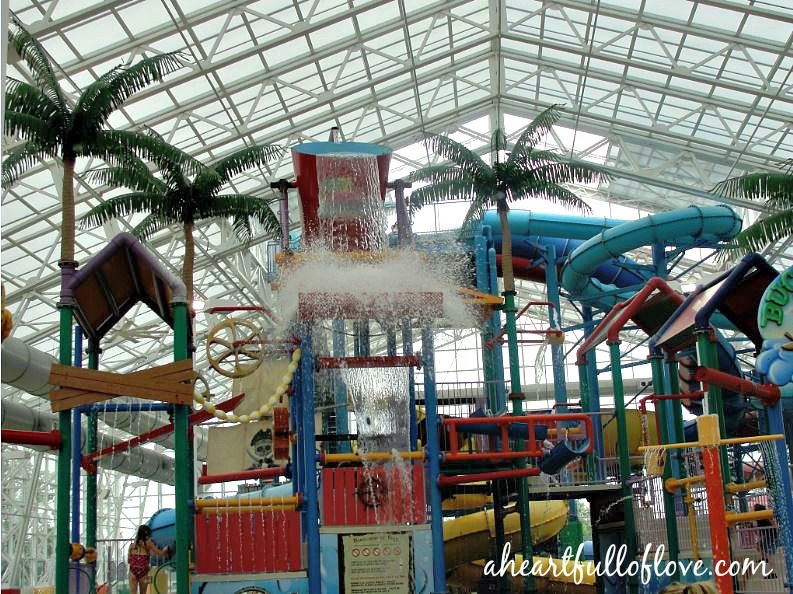 All in all we had a wonderful day at Big Splash Adventure.  Since we had a three hour drive to get home, we didn't stay until the waterpark closed, but we felt we got a full day's worth of fun in anyway since we were there right when it opened.  The waterpark has plenty to do for kids of all ages and we felt it was a good value for the day pass admission price.  If you ever find yourself in the French Lick, Indiana area, I highly recommend spending a day at Big Splash Adventure.
Disclosure:  We received 4 complimentary day passes to Big Splash Adventure to facilitate this review.  All other expenses were paid for by us, including the additional day pass.  All opinions stated are my own.