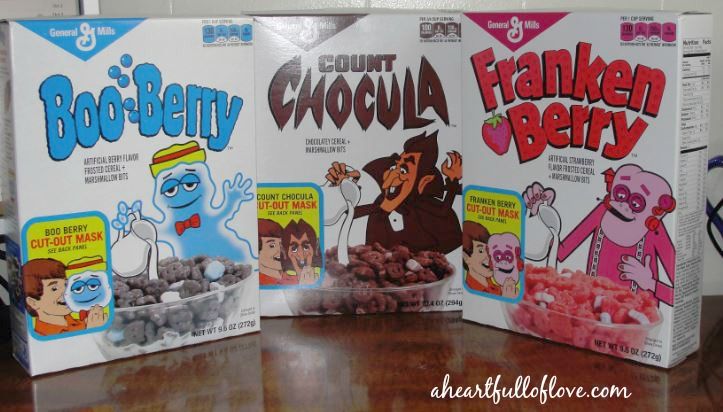 Disclosure: The information and prize pack have been provided by General Mills through Platefull Co-Op to facilitate this post. All thoughts are my own.
I am a child of the 80's so it is always so much fun to see retro food packaging.  It's like stepping back in time to my childhood, when things were a little bit simpler.  When Saturday mornings meant a big bowl of Count Chocula cereal while watching cartoons.
Just in time for Halloween,  Big G is giving us all a blast from the past with retro versions of Count Chocula, Boo Berry, and Franken Berry cereals.  How fun is that!?  Big G's Monster cereals in special Throwback packaging are back for a limited time and only available at Target.  On the back of each of these boxes of cereal is a fun mask that your child can cut out and wear.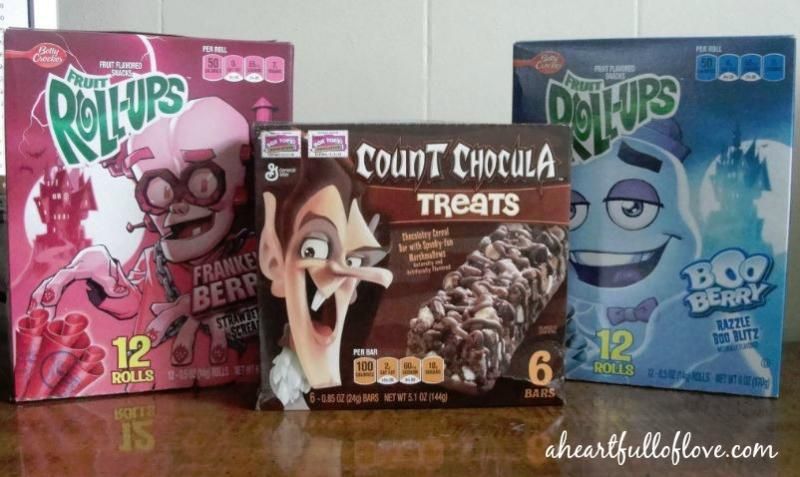 Joining the Monster cereals in their retro packaging this year are 3 varieties of fun Monster snacks.  Count Chocula Treats are yummy cereal bars with marshmallows and chocolate galore.  Just perfect for taming a chocolate craving.  Also available are Boo Berry and Franken Berry Fruit Roll Ups.  Those were a favorite with my kids.
The kids really enjoyed the cereal, but we also had fun using it to make some marshmallow treats for after-school snacks.  We used a mixture of Franken Berry and Count Chocula cereals to make a marshmallow treat that is reminiscent of chocolate covered strawberries.  I have included the recipe below in case you want to make some with your own kids.
ChocoBerry Marshmallow Treats
3 cups Count Chocula Cereal
3 cups Franken Berry Cereal
1/4 cup butter
1 10 oz bag of mini marshmallows
In a large bowl, combine the cereals and stir gently to mix.  In a large pot, melt the butter.  Add the marshmallows and stir continuously until melted and smooth.  Pour over the cereal and gently stir until all the cereal is coated.  Drop by large spoonfuls (I used a 1/2 cup measuring cup sprayed with cooking spray) on a piece of waxed paper and allow to cool.
Whether you just really love Halloween or you are feeling a bit of nostalgia for your childhood, Big G's Monster cereals and snacks are fun for the entire family.  So tell me…  Have you seen the retro Monster cereals at your local Target?  And just for fun… what was your favorite cartoon to watch on Saturday mornings?  Mine was the Chipmunks.